On Monday, the UK financial watchdog issued its Enforcement Performance Report. In 2018/19, the Financial Conduct Authority (FCA) issued 265 Final Notices of which 243 have been issued against firms and individuals trading as firms and 22 against individuals. The agency launched 276 regulatory proceedings and 12 crimina proceeding. In total, FCA imposed 16 financial penalties with a total volume of £227.3 million.
The agencies Unauthorised Business Department (UBD) received the highest number of reports about potential unauthorized activity in a single year in 2018/19. Between April 2018 and March 2109 a total 16,600 complaints have been received by which is an increase of 25% increase on last year.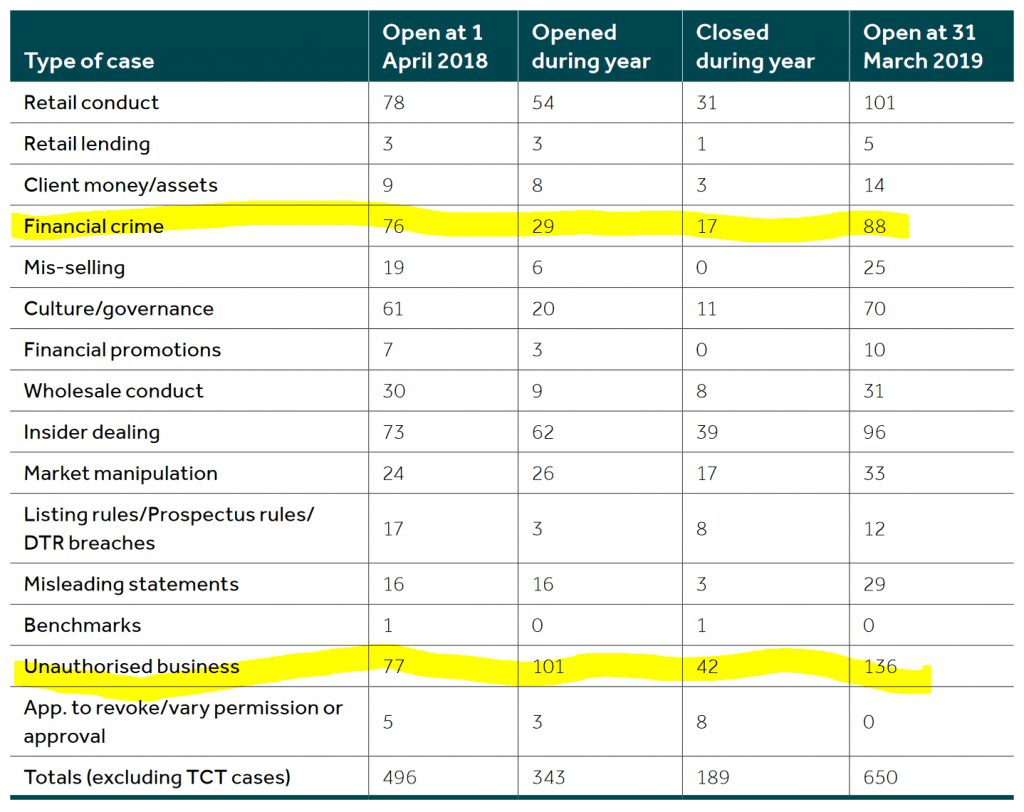 Open case statistics show that the two categories of Unauthorised Business and Financial Crime record a growing number of cases. The majority of illegally operating brokers in the area of binary options, CFDs or cryptocurrencies, for example, fall into these two categories.
The number of open cases in the Unauthorised Business category increased by more than 76% compared to the previous year indicating an unchecked growth in cybercrime.
The report states that one of the most prevalent types of online trading fraud in recent years has involved binary options The financial watchdog said that it started looking into a group of more than 200 unauthorised binary options brokers in 2018. While the vast majority of these perpetrators were based outside the UK, the FCA investigated into nine scams that had some form of UK presence. Three of these nine investigations are ongoing, including one large multi-jurisdictional one in which one of the key suspects has been arrested.
We think that this case is about BinaryBook and its operator WSB Investment Ltd, a UK-registered company. BinaryBook is part of the Yukom Case indicted in the USA with the Israeli Lee Elbaz as the main defendant. While Lee Elbaz asserts her innocence, another 5 defendants have already pleaded guilty to fraud with binary Options. The trial begins on 16 July 2019 in New York.